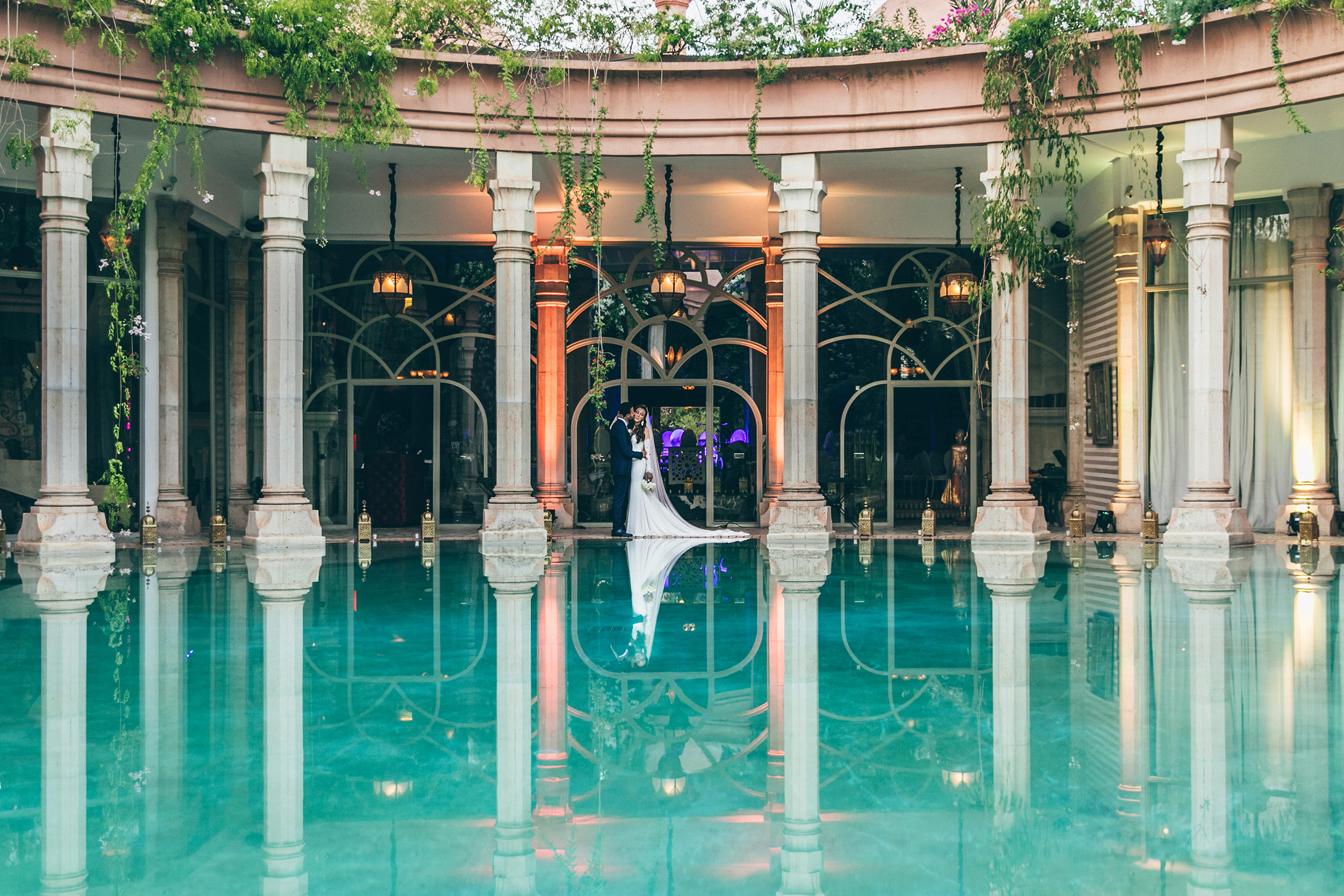 Why don't you get married in a Moroccan Palais?
You want a destination wedding but you're not sure where? Why don't you try Morocco? We are wedding photographer in Marrakesh for about 10 years. And we can tell you one thing, a wedding at Palais Rhoul  Marrakesh will make all your dreams come true!




Privatized Palais in Marrakesh
One amazing thing about Palais Rhoul is that you can privatize the entire propriety for yourself and your guests. You'll be able to enjoy every part of the place just like it's yours. Not only your wedding will take place in Palais Rhoul near Marrakesh but you'll also spend a magical few days in this gorgeous hotel. You'll feel like queen and king but not just for one day.
By privatizing the venue you'll follow the lead of some celebrities who already did that for themselves.



A wedding in the stunning Palais Rhoul
When you get married in a venue like Palais Rhoul you want what's best for everything and we can help you for that. We are wedding photographer in Marrakesh for about 10 years now and we were able to create a great list of all types of service providers. Like one of the best wedding planer we worked with, Maev Wedding.
Jouhayana and Medhi came from Montreal, Canada to marry in Marrakesh. They chose this sumptuous palace to say Yes and share their wishes with family. 
Crazy memories with your wedding photos & videos
Some times ago we were lucky enough to immotalize J & M wedding in this wonderful place that is Palais Rhoul. You can see the video that we made at this occasion on our YouTube Channel.
Lush garden, gorgeous pool, incredible villa, various locations where you can say yes to your better half. You can settle your outdoor ceremony under a beautiful flowering tree or with the reflection of candles on the pool.
Anywhere you chose we will adapt an our duty as wedding photographer in Marrakesh is to translate every feelings on our film.
Palm grove of Marrakesh
Palais Rhoul is located in the middle of Marrakesh's palm grove. This location is perfect to enjoy everything Marrakesh has to offer.
First of all you can do a camel ride through the Palm Grove to enjoy the location, you'll also have the pleasure to drink a traditional tea in the middle of the palm trees.
You can visit the city taking cabs or shuttles. There you will enjoy the wonderful Medina.
Several weddings in one at Palais Rhoul
There is one great thing if you get married in a place like Palais Rhoul is that you can have a different athmosphere for each stage of your party.
You can start by a peaceful non-religious ceremony in the middle of the scented gardens, then continue with a cocktail party by one the pool with thousands of candles reflecting on the water. After few cocktails or softs, treat your guests in the hotel's restaurant with a moroccan feast.
And finally celebrate your wedding with a big party in Palais Rhoul.
Day after couple session
If you're not having your wedding in Palais Rhoul you can still enjoy the place for a day after couple session. Just like our lovely couple from Dubaï. With a day after couple session you won't have all the stress of your Big Day, it will just be you and your better half.
Marrakesh wedding photographer
We promise you to translate the magic of your wedding in Palais Rhoul in Marrakesh in your wedding photos and videos. It's our only goal, to immortalized your memories !
Venue : Palais Rhoul Marrakech
Photos + Vidéo : Céline Cartallas & Gyslain ©lasdecoeur
Organisation & decoration : Maev Wedding