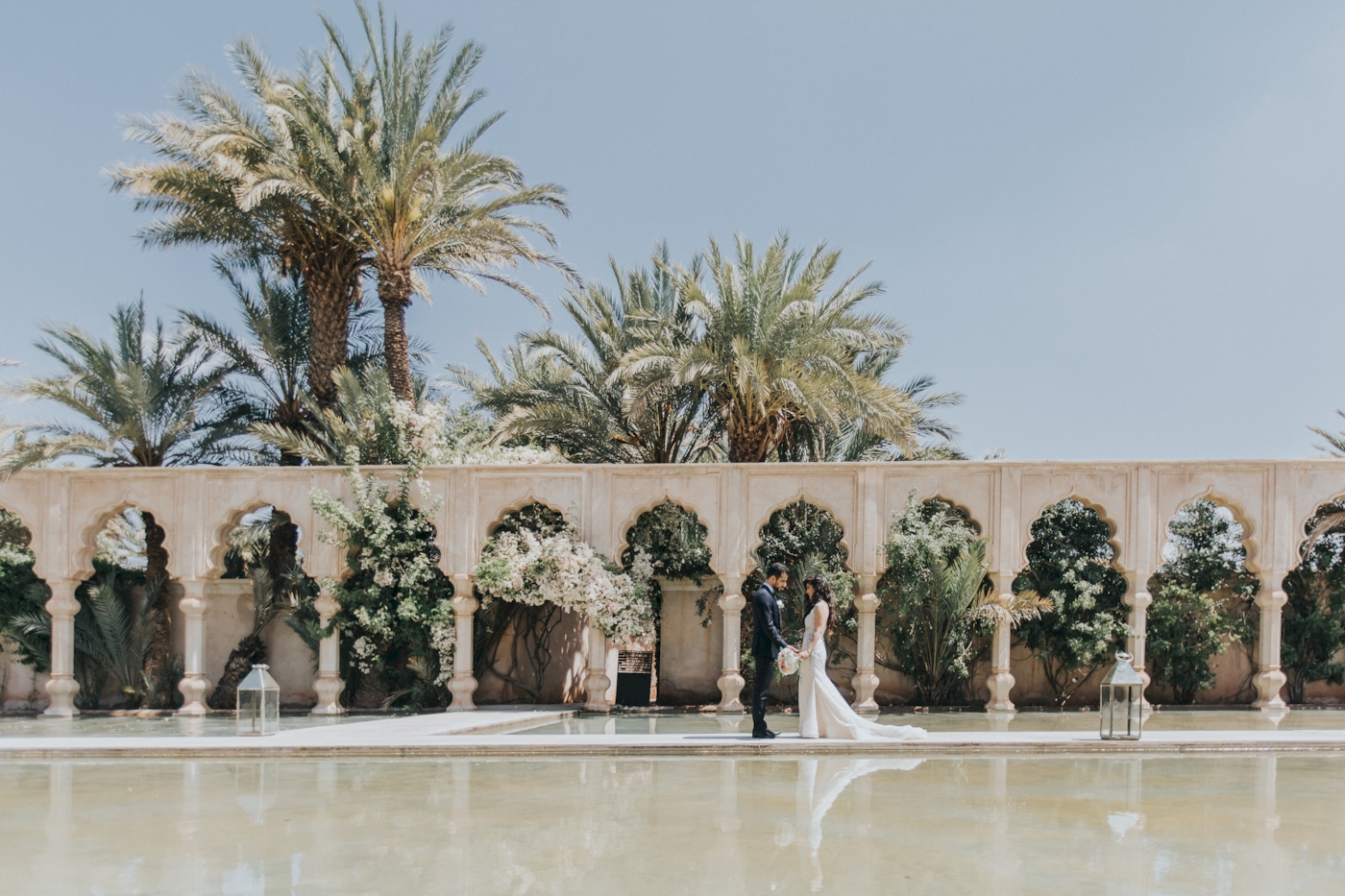 Palais Namaskar Wedding photographer
A sumptuous venue for your wedding in Morocco?
You're looking for a stunning place to get married in Marrakesh or for your "couple session" pictures?
You can stop! Let me just say one thing « A wedding at Palais Namaskar« ! It's what you need to wow your guests!!
Just a few months back we had the chance to do the couple session of Sabrine & Jeffrey from Dubaï as wedding photographers at Palais Namaskar. The result was simply breathtaking.

Wedding photographer Palais Namaskar, Marrakech

Palais Namaskar a dreamy location
In the heart of the palm grove, few years ago a hotel as magical as a royal palace opened his doors. Surrounded by the Atlas mountains and Djebilet's hill, the Arabian Nights Palace presents you an ensemble of 41 suites, villas and Palais. Luxuriant and fragrant gardens, gorgeous ornamental lakes and pools will offer you otherworldly wedding pictures in Marrakech.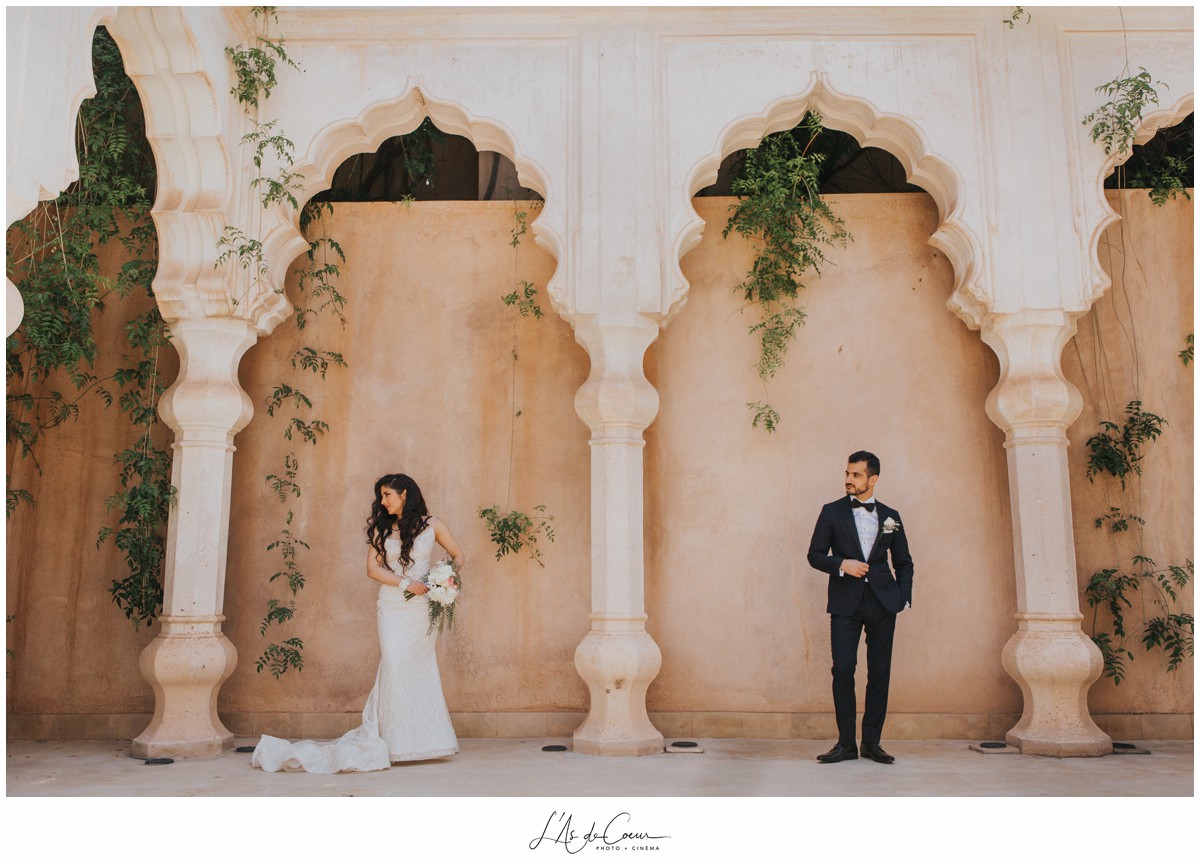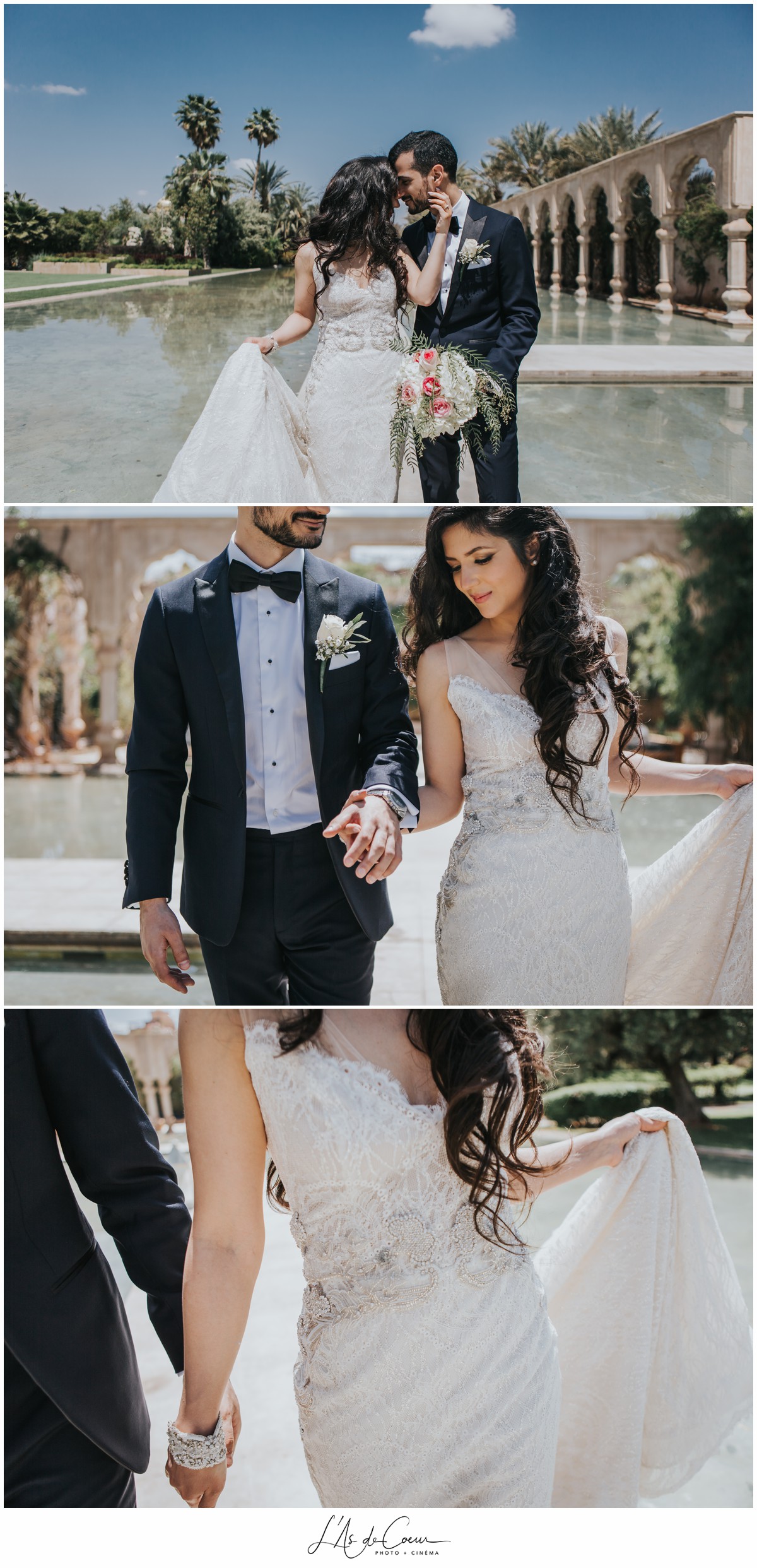 An incredible hit list!
In 2013, the Palace was elected "Hotel of the Year" by the Harper's Bazaar (in which one of our stunning weddings, Jane & Shane's was published) ! Last year, in 2018, they won the " Best luxury wedding destination in the world" and the "Best luxury romantic villa in the world". Those titles are well deserved. Your first instant in this place you feel as if you were in a fairytale.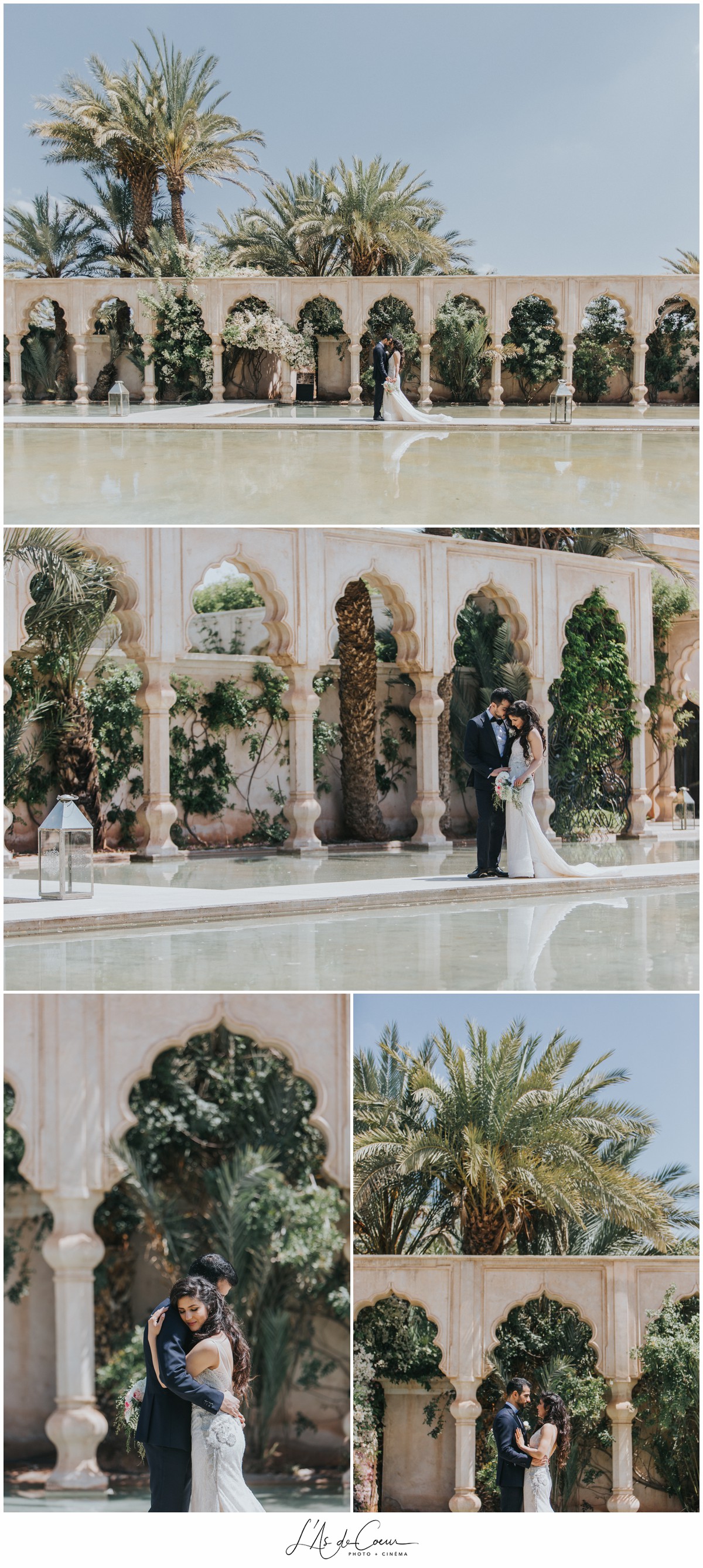 Palais Namaskar Wedding photographer Marrakech
Realise your dream with a wedding at Palais Namaskar
A wedding at Palais Namaskar offers you many choices for your wedding! An intimate outdoor ceremony in the middle of the gardens or by one of the amazing pool! Maybe you'll prefer a big reception indoor? Everything is possible. As your wedding photographer in Marrakech we'll do anything to capture your best wedding memories at Palais Namaskar!

Couple session
A couple session is a moment just for you two. Before or after the wedding. During this photo shoot our only aim is to faithfully transpose your love into beautiful photographs. We can help you to choose the perfect location. We are wedding photographers in Marrakesh for about 8 years now and our address book for stunning spots grow every time we come back to the Red City.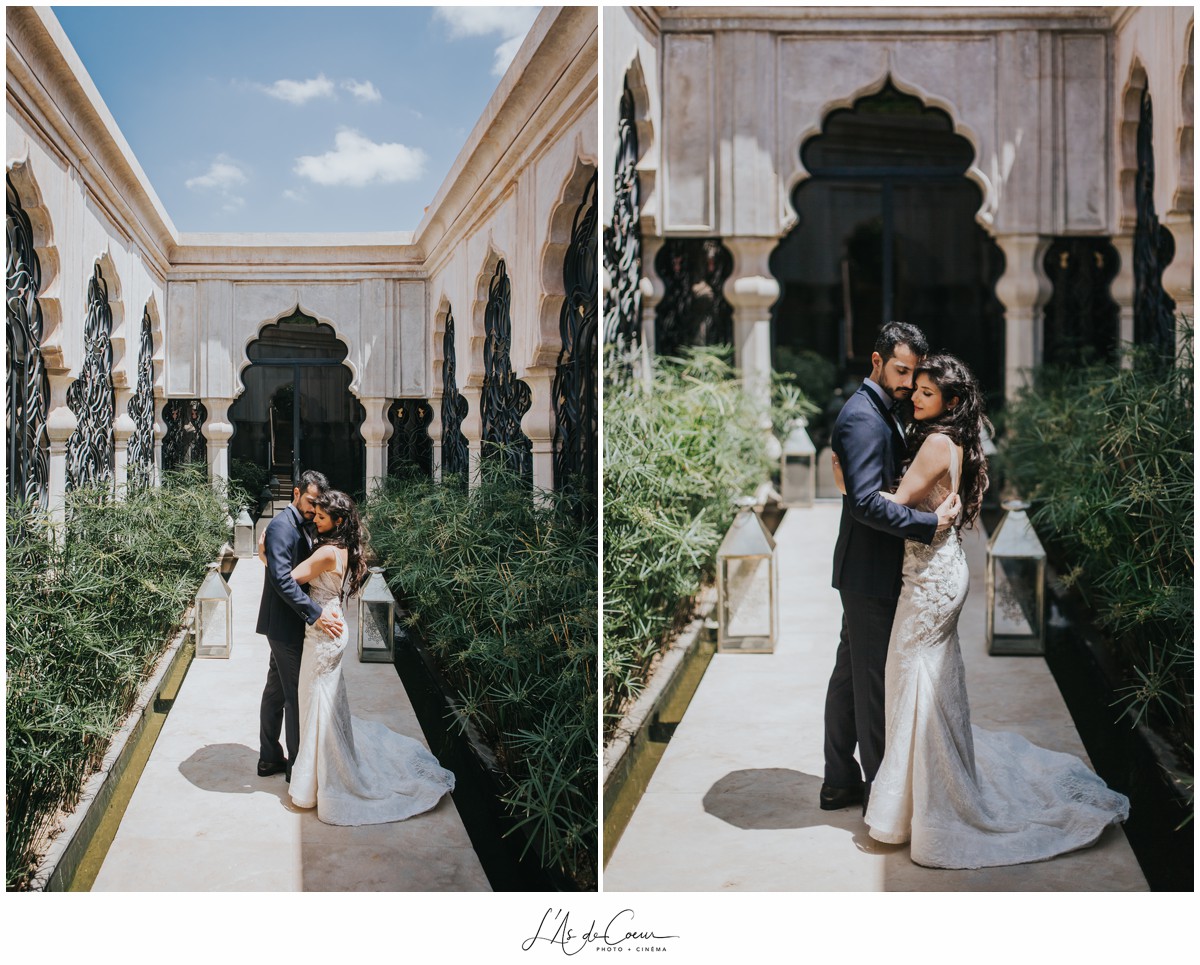 "Day After"
If you don't want to add to the rush of your big day, we can offer you a "Day After" session. This session, will take place after your wedding and your only mission will be to enjoy being together without the fear to damage your lovely shoes or dress… Our duo can help you to choose the perfect location. We've been wedding photographers in Marrakech for about ten years now. Thanks to this, our address book for stunning spots grow every time we come back to the Red City. We will also be able to do several locations during the shooting. For instance start in the impressive and colorful Medina, then the magnificent Jardin Majorelle and close the day in one of the opulent Palace just like the Palais Namaskar.

Enjoy Marrakech for a few days
If you choose to have your wedding at Palais Namaskar we will be pleased to help you find the perfect service provider. We have years of experience as wedding photographer in Marrakesh. We want to help you to have your big day, as sumptuous as possible!

Palais Namaskar wedding Photographer
Thanks for visiting our website! 
If you are looking for a Marrakech wedding photographer and you love timeless and bright pictures with a lifestyle you are in the right place ! 
We will have the pleasure to accompany you for your love session. But also for your wedding day in one of the most beautiful palaces in Morocco.