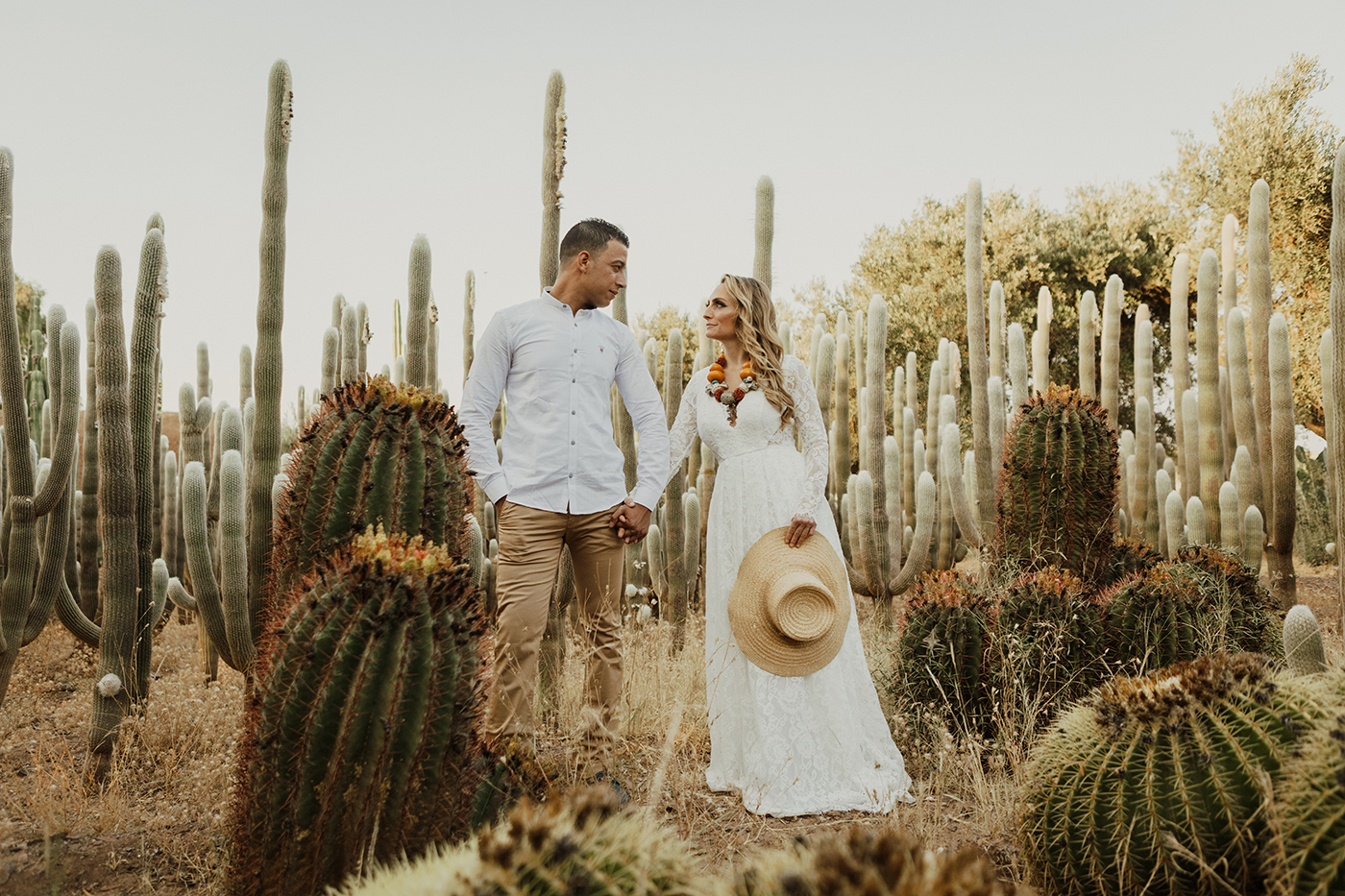 Couple's boho shooting in Marrakesh
You want to have a beautiful memories without all the stress of your Big Day or even create a stunning save the date for your guests. What you need is a love session! And we, wedding photographer and video maker in Marrakesh are here for you! Today we'll take you to a love session in a cactus garden 🌵.
Love session in cactus garden Marrakesh
Not long ago we had the luck to do A + K love session in a cactus garden near Marrakesh, Morocco. It was our first time there and we're not going to tell you where it is, it's our little secret that we'll share once we'll know each other better. A wore a beautiful boho dress with some berber jewelry.
Pre wedding in the Cactus garden
Perks of an engagement session
For us an engagement session is quite important. First of all it's a first meeting between you, us and our camera. Thanks to this couples shooting you won't be camera shy during your wedding. Also by doing this session you'll have all the material you need to create the perfect save the date for your guests.
Wedding Portrait in a Cactus garden Marrakech
Engagement session in Marrakesh
If you want a destination wedding, Marrakesh is the place for you. We're wedding photographer and videographer in Morocco for almost a decade now and know all the places to be. You'll find a lot of venue, each of them has something special. On our site you'll find some blog posts about the most beautiful palace in Morocco. If you're thinking about getting married in Marrakesh, doing you're engagement session there is the perfect idea to give you a taste of the Moroccan magic.
Multicultural wedding
Morocco is the perfect choice for a multicultural wedding, you can tradition with modernity, Arabian nights with Boheme chic. A comes from London and K from Marrakesh, so it's a natural choice for them. For their love session we chose a cactus garden near Marrakesh. First of all because it's been a long time coming for us to shoot in these setting. But also because this cactus decor gives a jungle style to our pictures!
If you want to know where this magical place is, don't hesitate and book a love session with us in a cactus garden in Marrakech!!
Venue : Cactus Garden, Marrakech
Photos : Céline Cartallas ©lasdecoeur
Wedding planner : Maroc Sensations